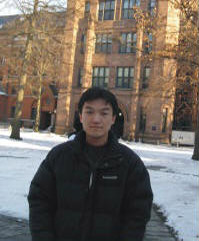 Experience
University of California, San Diego, Ph.D.

Teaching subjects
1. X-ray Diffraction and Crystal Structure
2. Introduction to thin film physcis

Main expertise
Nano Materials and Manufacturing

Key research topics
(1). Carbon Nanotube Alignment
(2). Si-based Solar Materials Fabrication
(3). Metal Contact to p-GaN

Research Equipment
We have built a hybrid, high density plasma chemical vapor deposition (HDPCVD) system, which combines two plasma sources, a remote electron cyclotron resonance (ECR) and a radio frequency (RF) plasma sources. In order to improve plasma uniformity, a dual magnet coil is set under the substrate stage. By using this hybrid system, the density and energy of ions can be controlled independently, and thus a high-quality thin film grown at high deposition rates is expected to be produced. The growth rate of a-Si:H films could reach 1.5 nm/s.